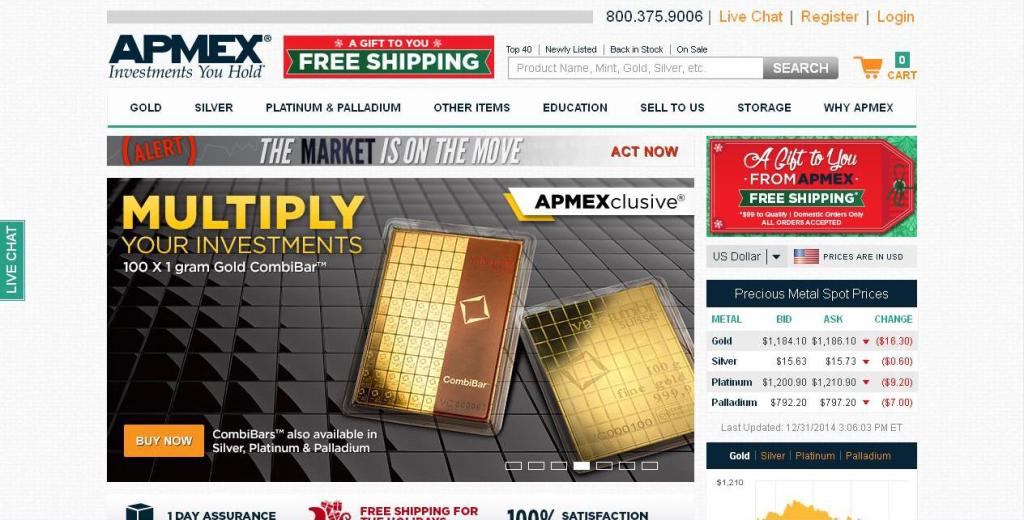 226 Dean A. McGee Avenue Oklahoma City, OK 73102
APMEX stands for American Precious Metals Exchange.  APMEX is one of the largest precious metals dealers on the Internet.  Besides gold and silver, APMEX also sells platinum and palladium, collectible currency and a variety of supplies.   Over the years they claim to have sold 2 million+ ounces of gold and over 94 million ounces of silver.
They currently list 900+ different silver products.  They sell everything from silver eagles to large 1000 ounce+ silver bullion bars.  They sell gold and silver in virtually any format you can image.  Besides their bullion products, they do a large business in 40% and 90% silver US coins, by the dollar, roll or bag.  They also can sell lots of US silver coins based on grade.  They do offer full collections like a 1916 - 1947 Walking Liberty Half Dollar set, complete in a Dansco album.  APMEX also sells several gold and silver products that can be accepted into IRA plans.
APMEX pricing is middle of the road.  Some items are more expensive than other dealers and some are less expensive than other dealers, so make sure you shop around.  They, like most large dealers, markup the price of your products if you buy with a credit card.  APMEX's credit card premium is about 3.5%.  That said, they will do what they call QuickShip, or next day shipping,  for orders using credit cards and bank wires.
APMEX has a hard time keeping many of the popular products in stock like certain $100 bags of 90% silver US coins.  This is normal for a high volume dealer.  They clearly mark when items are out of stock and allow you to set an email alert for when they are back in stock.  I like that they mark IRA products.  I also like that they will show, in many cases, their premiums on many products.  Furthermore, APMEX includes customer reviews on most of their products.  I also like that they show their "Buy Price" for certain products on the product listing.
What has been your experience with APMEX?
When doing business with APMEX, please let them know you saw them at SilverExchange.com